My Background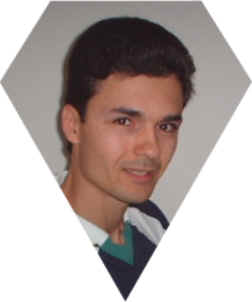 What I love to do:
I've been studying and coaching Peak Performance for over 15 years. Learning ways to improve my life and that of others has been my ultimate passion. Because of this passion I've read over 350 books, studied and listened to over 50 audiotape programs, read numerous articles and attended over 25 seminars in varying fields to help me get the most up to date and cutting edge info about Self-Improvement, Personal Development and Peak Performance. Learning about and teaching Peak Performance is my passion in life.
The topics I've studied and continue to study include Neuro-Linguistic Programming (Certified Practitioner), Self-Help and Peak Performance Classics, Spirituality, Visualization, Psychology, Fitness and Nutrition, Marketing, and Management. Because of this extensive research I've amassed a tremendous inner library of solutions that can help you improve your life quickly.
Knowledge is one of the absolute best keys to improving your life. Daily half hour improvement reading can give you the equivalent of many Bachelors degrees. I have an official Bachelor of Science in Sports Management from Rutgers University. I also have enough experience to have acquired at least a bachelors degree in Nutrition, Marketing, Psychology, and Eastern Spiritual Concepts. I study the things that can help improve your life and your business results.
For 10 years I was an active leader in Spiritually based Self-Help Group. I did numerous talks and workshops. I also was in charge of putting together youth seminars. From my higher plane and higher being spiritual experiences, realizations, study and work there, I've developed many of the technologies that I am using today. I learned about the incredible power of Imagination as well as the fact that I am a spiritual being and I exist in God's love at all times. I learned this from deep spiritual experiences, not from book knowledge. Go to http://www.imaginationscience.com to learn more about the exciting possibilities your imagination can unleash in your life.
I've also used these techniques for over 15 years as a Peak Performance Coach to tennis players. I used traditional coaching methods as well as my exclusive mental techniques to help them improve their game. Go to http://www.supertennis.net to see more about that including many Special Reports that will improve your sports and life performance.
I've created many amazing solutions in my own life using these techniques. I've also helped many others to improve their lives, get a raise, increase business profits, get a promotion, get a job, lose weight, improve results via visualization and more. Click here to view Testimonials.
I've also written many articles and designed my own websites. I'm currently finishing up a book on my favorite and very creative personal development technique. To get an introduction to this Super Powerful Technique, go to Magic Questions.
If you have any questions, feel free to email me at rh(at)superbeing.com .